Moderators: PEPCORE, SweetPeaPod, BreakforceOne, JohnMerrik
Posts: 715
Joined: Sat Apr 14, 2007 12:00 am
Location: New England
Looking at getting a new soundcard to compliment my new setup....
Anyone got something new they love? I dont want to stick with my crappy maudio one... want something new.
I don't need a fucking signature...
---
i use a tascam 144 mk- ||
It's big, cheap (106 euros).
Works with usb.

Dislikes:
Only 1L and 1R, so ableton can have two mono channels receiving external instruments
+it's big

Likes:
It's faster than having none (i believe it's an asio driver)
It has main volume knob + headphone volume knob. I see that as a clean sound and the other wit some fx becomes a distorted sound. I not so familiar with what's on the market. I love to have a firewire mix table, though they cost like minimum 1000&
---
it'z at the right corner above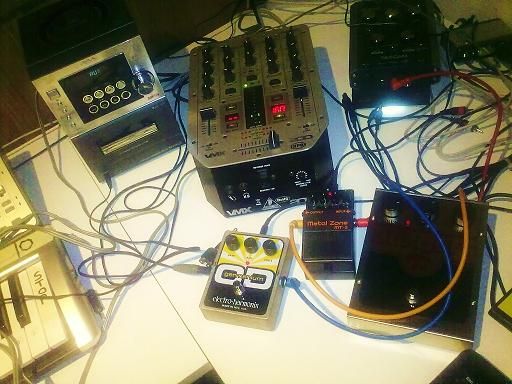 [/img]
---
Normal moderator and owner
Posts: 2320
Joined: Sat Mar 31, 2007 12:00 am
Average track rating: 4.7/5 out of 6 votes
verdroid wrote:it'z at the right corner above

[/img]
Cool, did not know you has so many hardware
I still never have bought a soundcard really, maybe i need to turn up the effects for the need of it.
I am buying a laptop pretty soon, so i think i will be buying some external soundcard as well, preferably tiny
Have no idea what to buy yet.
---
tc electronic are the best for me.konnekt 24d is very compact and the ad converters are awesome.
---
m audio are shit.any other is better.focusrite or presonus are good too
---
Posts: 715
Joined: Sat Apr 14, 2007 12:00 am
Location: New England
Yeah... I use MAudio now... Hate it...
Looking forward to something that is not it...
Thanks for the recommendations gang!
I don't need a fucking signature...
---
i've got the tascam di i said before, intel core i7 2670QM @2.20GHz / 8GB ram, still got cpu overuse
gotta real hate/love relation when it comes down to laptops
---
Posts: 136
Joined: Sun Aug 05, 2007 12:00 am
My friend just got an Apogee Duet... it's small, slick, and pretty basic, but I think it would do everything I need: 2-in and 2x2-out. The sound seems incredibly clean... but unfortunately for me I think it's mac only. Also expensive... about $600 CAD, I wonder if there's something similar for windows machines?
[/img]
---
---
Who is online
Users browsing this forum: No registered users and 3 guests