Moderators: PEPCORE, SweetPeaPod, BreakforceOne, JohnMerrik
Are there any hardware synths that are at all similar to FL studio's Toxic Biohazard vst, similar in the way you have multiple oscillators which you can use to modulate each other. Been looking at the roland gaia, looks sorta like it could be alright, I like the fact you can also edit the synths from your computer like with the microkorg xl. Is there anything else that I could get with a price range of preferably not much more than £500?
Also further to this, anyone know if there are any synths in existance which come with multi-channel loop stations built into them. It would be really handy if my synth came with the ability to layer multiple synth parts, would save me carrying round a serperate loop station like the harmonix 2880.
Anything else? Nope, I think thats all i want to know at the moment....
---
this is a small list of synths under 500 euros, for the multiple oscillators you will have to look them up yourself to find specifications
i actualy put these pics up because they make me horny...good luck anyway...post it up what you decided to buy and share some sounds you make with it
ANALOG
MFB nanozwerg
DAVE SMITH mopho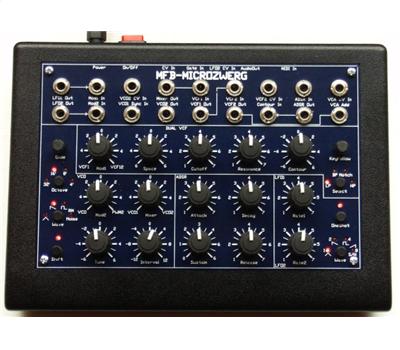 MFB microzwerg
VERMONA mono lancet
DAVE SMITH evolver

DIGITAL/ANALOG
M-AUDIO venom
WALDORF blofeld
---
edit: the vermona mono lancet has the wrong pic. The pic shows the reverb lancet by vermona. It's a filter + a real spring reverb. I'm wondering, if you would bang your fist to the table, would it create reverb?
---
undoubtedly so! They should fit massive reverb springs under gabba dance floors
a fine selection, it was the more keyboard synth side of things i was looking for. i have been creaming over the idea of the minibrute but i'd want easy access presets... if that had presets it would be the one for sure, otherwise it's just a really fun and cool toy for fucking about with on stage (though i suppose i could just try and get really good with it and know what I need to adjust at any given time)
is a multi-oscillator keyboard synth with presets and a built in multi-channel loop station for not too much more than £500 a little unrealistic maybe? i keep seeing all the fandangled workstations that are basically just computers attached to a keyboard.... surely someones thought of a keyboard synth with a multichannel loop station for lazy people like me who want only a couple of things to carry!
---
yes, that minibrute even looks bad
dave smith instruments are also available with keys attached, but you could buy a synth and use an external midi keyboard to it.
i gues 500 bucks is not enough for what you want, seems that you want a whole workstation
well, don't feel bad, i, meeself for example want a hexa processor and at least 64 ram in the size of my backpack....for now anno 2012, it also ain't happening...but you sure can work around it. was just playing with some vst's...they do the job too you know
did look a little further and noticed indeed the roland gaia is "getting close"
to what you want
new this year 2012:
this would give you two channels to loop (+ third channel you are playing live)
Vox Lil' Looper
it has 2 independent loops + a lot effects (+/-150euro)
it also has a bigger brother with expression pedal
---
a nifty little thing, two channels might do it, and extra effects are always a bonus, missing midi sync though.... i reckon my work arounds gonna have be the harmonix 2880
I was thinking about the work stations (well deraming due to my lack of thousands of pounds), but Im trying to get away from the idea of doing lots of the work with a mouse on a screen and triggering things, as excellent as some of them look i might aswell just gaffa a laptop to a 61 key midi keyboard, hmmm, i need to start my own audio hardware company
thanks for all your help though, i think i'm gonna just have to look into more of the keyboard synths and try and work out what will work best for me...
so far the best options i've found are microkorg xl, minibrute and gaia, I'll look into the dave smith keys tomorrow me thinks
---
Who is online
Users browsing this forum: No registered users and 3 guests