Moderators: PEPCORE, SweetPeaPod, BreakforceOne, JohnMerrik
Realicide / Half Gorilla split 7"
$6 US / $8 World, postage-paid.
http://www.myspace.com/realicide
http://www.myspace.com/halfgorilla
Realicide offers 2 studio tracks recorded later 2007 (Dead And Ground Flat On Cement + Head Perfect) featuring noisy hardware speedcore by Vankmen with the voices of Robert Inhuman and Jim Swill; topics of misanthropic compassion and the erosion of personal privacy via a double-edged sword called technology. Half Gorilla is an intense grindcore band from Milwaukee drawing equal influence from traditional hardcore punk and various offshoots of deviant metal, offering 4 songs (All Your Sores, Shit In The Well, Rabies Diet, Birth), from 2007 when Peter J. Woods was the bassist. This record brings together two drastically different aesthetic adaptations of hardcore, but in a situation in which they can coexist with mutual open-mindedness! Try it instead of default prejudices?! Edition of 500, August 2009.
Also, we now have a small re-stock of Realicide's 2007 LP "RRReady To Fight" from RRRecords.
REALICIDE "RRREADY TO FIGHT!" LP
$12 US / $18 World, postage-paid.
12" by RRR (Lowell, MA) – first Realicide vinyl record, a best-of collection 2004-07 speedcore gabber/grind and manic noise edits. 36 minutes of fast high-anxiety electronics-driven punk music. Hand-screened covers by Outfall Channel, 12 page xerox book, and a vinyl sticker. Editioned to 380, June 2007. Note: the title on this record reads "Ready" but it was intended to be "RRReady", combining the reference to classic hardcore band Negative Approach, and classic harsh noise label RRR. This was the sole reason for the title, and it's been regretted using a compromised spelling, losing our intentions and attempt at relevence. Also, this record is viewed by many as a Realicide "album". It's not meant to be seen this way. It is an anthology on vinyl. The format does not make it more valid or unique as music. It's also not a DJ record, so any ideas that we were supposed to make something with a steady BPM and longer, more manageable tracks to spin at your hardcore party, is very confusing to us and only implies a complete lack of willingness to understand the root nature of the music on this record. It may not be practical, but it is our take on speedcore and manic cut-up noise.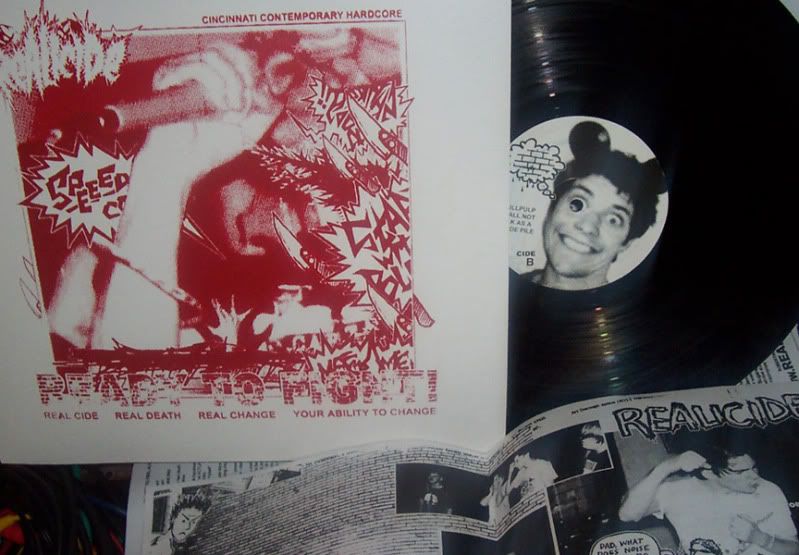 CONTACT / PAYPAL =
robertinhuman@hotmail.com
http://www.realicide.com
MORE RECORDS STILL AVAILABLE =
REALICIDE - RESISTING THE VIRAL SELF
LP + zine = $15 US / $20 World, postage-paid.
CD + zine = $10 US / $15 World, postage-paid.
LP + CD + zine = $20 US / $29 World, postage-paid.
"Resisting The Viral Self" is a rare circumstance of Realicide finally completing an extensive studio album of a highly collaborative nature. In contrast to the project's extensive output of live bootlegs and other very rough material, here is a very defined and focused collective energy from artists across the US throughout late 2007 until early 2009. This body of work includes the lyrics and voices of Robert Inhuman and Jim Swill; the hardware and software electronic music of Vankmen, Ryan Faris (of Capital Hemorrhage), Evolve, and Steven Cano (tik///tik); additional sampling by Simon Severe; and mastered by Mavis Concave. Sonically, "Resisting The Viral Self" ranges from Realicide's established style of very abrasive gabber punk, inspired by certain sects of harsh noise and classic digital hardcore, yet venturing into other means at times, such as dark ambient soundscapes facilitating spoken tracks and delicate sound collages. Lyrically, the album claims allegiance most strongly to the roots of Anarcho-punk and other combative, yet ultimately constructive, efforts in promoting a lifestyle based in equality and the courage to experiment regardless of social pressures (especially against these social pressures). The 12" vinyl holds the essentials of the album, at 17 minutes each side, but the CD format has allowed the material to be doubled, at 48 tracks and filling the disc with as much raw hardcore and industrial mania as possible. Both versions of the album are available in full-color printed jackets, featuring artwork by Robert Inhuman, and are accompanied by an extensive zine. Though a modest stack of xeroxed text and drawings, this zine is completely supplemental to the music of "Resisting The Viral Self". In addition to all technical credits and lyrics, essays elaborating on the content of almost every track are presented, along with essays regarding the ethical philosophies and policies surrounding Realicide in every aspect of its operation. Vinyl stickers are also included with both CD and LP versions. For anyone who has an interest in Realicide and has waited through years of many less coherent bootleg releases, or anyone who has been increasingly hungry for a band that can very directly utilize electronic hardcore as a vehicle for radical and socio-political propaganda, this is an album that can give you what you've been hunting for - with a terrifying vehemence yet an unwavering message of compassion and self-sacrifice. FIGHT THIS HELL. REDEFINE HARDCORE. 29 March 2009, for Realicide Youth Records (1st Edition: 500 LP & 1,000 CD)
Realicide / Capital Hemorrhage split 7"
$6 US / $8 World, postage-paid.
http://www.myspace.com/realicide
http://www.myspace.com/capitalhemorrhage
Originally created for Apop Records, when it was never pressed we decided this could be the first vinyl release properly handled by the Realicide label. Each band offers 2 tracks, one being a cover song of the other band. Realicide "The Audience Sucks" and "Army Beta Test" (C.H. cover), featuring merciless speedcore gabber by Vankmen and industrial rock programming by Mavis Concave, with voice and further editing by Robert Inhuman. Capital Hemorrhage "Man Of Steel" (Realicide cover w/ words by Jim Swill) and "Familiar Death", a bleak and disjointed mix of hardcore and no-wave noiserock by the duo also known for Ultra//Vires, Hentai Lacerator, Often, and their DIY label Outfall Channel. Mastered Weasel Walter. Cover art by Ryan Faris of C.H. and inner sleeve artwork by Ben S. of Saint Louis' Freezerburn Zine. This record clearly exemplifies 2 sorts of progressive hardcore associated with Realicide Youth Records, and will also serve as the precursor to the upcoming Realicide "Resisting The Viral Self" LP on this label, among other more concentrated releases by bands and artists that do not necessarily share an identical aesthetic, but more importantly find common ground in their ideologies and general methods of seeking dialogue with the world surrounding them... 500 copies, December 2008 by Realicide Youth Records & Outfall Channel
www.outfallchannel.com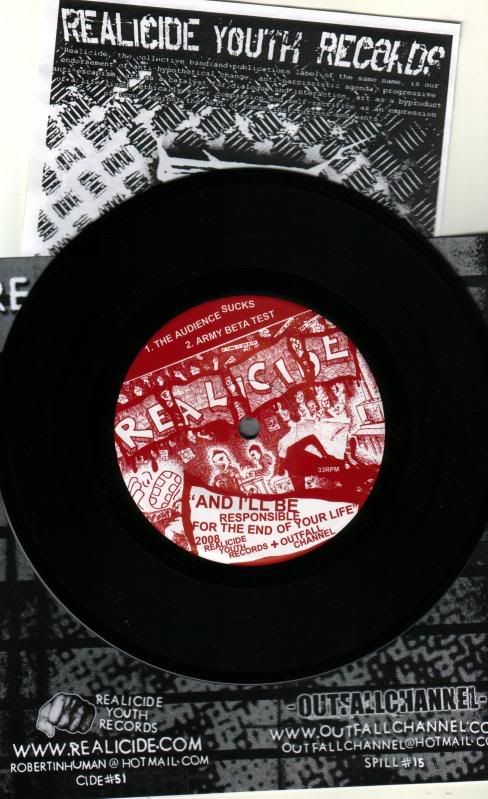 Hentai Lacerator "Chelsea Charms R.I.P." 7"
$7 US / $9 World, postage-paid.
http://www.myspace.com/hentailacerator
Released by Austrian extreme music label Hirntrust Grind Media, "Chelsea Charms R.I.P." offers a vinyl format for 6 of the sickest tracks from Hentai Lacerator's 2007 studio album, "Sugarsplash!", previously released via CDR by Realicide Youth and Outfall Channel. Fans of excruciating and bizarre fast hxc, punk-drenched grindcore, and manic brain-damaged noiserock can find a perverse comfort in Hentai Lacerator. Also, individuals who are interested in sexuality may be intrigued to know that the band's lyrical content focused on scenarios involving Slimer (the green ghost) interacting and pining for various Hentai Prostitute girlfriends. So basically, you can try to rock out to Hentai Lacerator just for the sake of wild noisy hardcore music, but it is at times very difficult to turn a blind eye to its more overtly weird, fucked up, and arrosing qualities. Be warned!!! 7" record cut at 45rpm w/ full color covers, featured songs: A1 Killed By Cum, A2 Fatal Surge of Tits, A3 Sugarsplash!, B1 Stripped Nude In The Slimepit, B2 Blisshole, B3 Dazzle And Kill Them! Editioned to 300 copies, February 2009.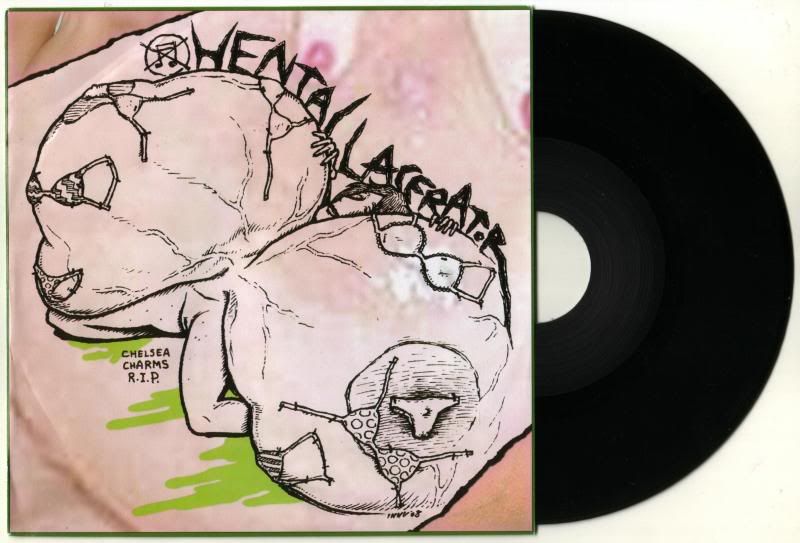 VARIOUS AVAILABLE IN REALICIDE DISTRO =
(These don't include the small amounts for postage costs. See full distro list at
http://www.geocities.com/realicide/1distro
)
Muscle Brain 12" $10 – beautifully hand-printed artwork with the self-released LP of the outstanding Saint Louis tech/post-hardcore duo!
Xrin Arms "Olive Juice" CD $10 – extremely abrasive electronic grindcore with hiphop and soul references; wild 2009 album released by Snake Pillage.
Amphetamine Virus "Starting Over" CD $8 – some of the absolute best US breakcore; from Backwards Records in Seattle – remixes of White Zombie, Tool, Body Count, many more…
In The Age Of Terminal Static "Bumblefuck Hivegrinder" CD $8 – Seattle bee-driven industrial and noise.
Fathers Day "I Gotta Look My Best" CDR $5 – outrageous Phoenix hardcore punk all from the perspective of a sleezy and frustrated working father / husband!
Overthruster "Bravura" CDR $4 – Minneapolis breakcore maniac.
Disthroned Agony "IV" CDR $4 – Minneapolis powerelectronics maniac.
Dawn CD $8 – intense dark HxC/grind from Nashville!
Sanctions "Home Sweet Home" CD $8 – dark Nashville hardcore.
Vankmen / fap* 3" CDR $5 – split 3" by Reactionary (Portland, OR) - as usual, Vankmen offers excruciating quality speedcore gabber/breaks/noize, features the Hentai Lacerator remix "Hacking Off Your Torso"…
Vankmen "Lockjaw" bcCDR $3 – short brutal noise release by Vankmen, typically known for the best speedcore gabber mayhem in North America, on their own Crunkcore label (Oakland, CA) with color artwork.
Z'EV & Bryan Lewis Saunders "DAKU" CD $10 – Another riveting narrative by The Brainsander, this time fed into the hands of experimental percussionist Z'EV who processes Bryan's voice through a gauntlet of intensive editing to enhance the tension and nervousness of the piece… Released 2008 on Standup Tragedy in Johnson City TN. Look out for plans of Bryan Lewis Saunders' "Prison For Dummies" CD album on Realicide Youth Records in 2009.
Bryan Lewlis Saunders "The Inner Demon Demos, Vol. 1" CDR $5 – 14 tracks of amazing spoken word from this Johnson City TN artist who has had collaborative involvement with artists such as Z'EV, Sage Francis, Lydia Lunch, etc. This is his earliest released material, primarily of 2005, and dually offers an atmosphere of twisted nerve-wracking mania and undeniable empathy and compassion. Featuring the hit known at many of his live performances, "PCP Poetry".
Rose For Bohdan "then everybody hugged; racism is god" CD $8 – 5 album by an incredible progressive punk rock band on Deathbomb Arc Records feat. members of Gang Wizard and Foot Village.
Positive Noise tape $5 – rad Michigan hadcore punk! feat. Sock (Xtra Vomit!) on drums!
Victory! / Party Favorites tape $4 – Victory! is a wild noisecore duo from Grand Rapids that have toured with Realicide and will have an LP on RYR in the future.
Jim Swill "Intrusive Elements 1: Temple Ov The Screen" zine $4 – the first collection of socio-political collage works of Jim Swill. January 2009.
Jim Swill "Intrusive Elements 2: Converted Will" zine $4 – 2nd collection of collage works "for people who are tired of reading". March 2009.
Jim Swill / Evolve "Digestible Ruins" $4 – split book published under the "NOW IS THE TIME" label, features several poems and artwork by Swill (of Realicide, Get Born) and Evolve (albums on Realicide Youth, Heresee) Xeroxed beautifully w/ cardstock cover and transparency centerfold, this collection well representing both artists' work and lives in the couple months leading up to its conception. April 2008.
Datacide #5 zine $5
Datacide #7 zine $5
Datacide #8 zine $5
Datacide #10 zine $5 – decade ongoing political electronic music zine from Praxis in Berlin.
(CIDE#52) Sacrifice Zine #2 $3
(CIDE#53) Evolve "once it was easy to give up everything you had & wander; before the streets were venomous: we walk" $5
(CIDE#54) Split Horizon "Thunder In The Ground" CDR $5
(CIDE#50) Realicide "CIDE TORRENT" data-DVDR, 4.3gb of over 1,800 files. $12
See full distro list at
http://www.geocities.com/realicide/1distro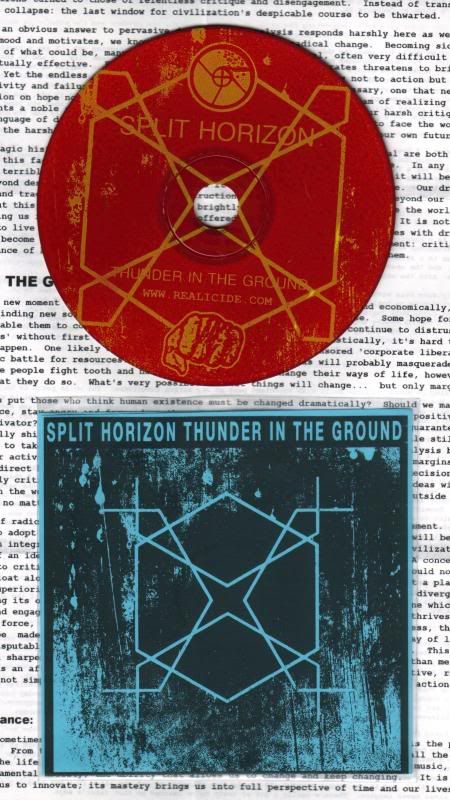 CONTACT / PAYPAL =
robertinhuman@hotmail.com
http://www.realicide.com
---
Is there a simple vegetarian weight loss diet that would be easy to follow in a college environment? I'll be going to college soon and I am overweight. While most people gain weight when they go to college, I'm nearly ashamed of eating in public so I'm hoping it will be a great opportunity to lose weight. I will probably make breakfast in the morning but my other 2 meals will be from dining halls. I was wondering if anyone knew a good vegetarian diet that would help me lose weight quickly without requiring I go to the grocery store often and buy ridiculous and expensive natural products.
_________________
affiliateelite
~
affiliateelite.com
~
adgooroo
~
adgooroo.com
---
Who is online
Users browsing this forum: No registered users and 5 guests