Moderators: PEPCORE, SweetPeaPod, BreakforceOne, JohnMerrik
Posts: 74
Joined: Wed Mar 02, 2011 12:00 am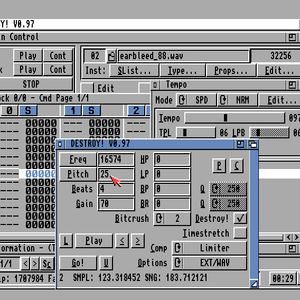 breakcore led to so many classic tracks being created. this is round three in this tribute series already. this old sound has not to be forgotten. when the scene was more political, activist and bold than ever... but let's not dwell in the past, maybe we can bring this anarchist and rebel spirit to the present, and, more importantly, to the future again?
01. Aphex Twin - Come To Daddy (Pappy Mix)
02. Shizuo - Sweat
03. Amiga Shock Force - HC Ragga Beat
04. Amiga Shock Force - Dick
05. Hecate - Black Eyes
06. Hecate - Caught Up
07. Christoph Fringeli & DJ Pure - A.C.
08. Pure - Fight 'Em
09. DJ Scud - MTV Generation
10. Somatic Responses - Incubation
11. Base Force One - Welcome To Violence
12. Ec8or - Discriminate (Against) The Next Fashionsucker You Meet - It's A Raver!!!!!!!!
13. Ec8or - Cocaine Ducks
14. Christoph De Babalon - What You Call A Life
15. Society Of Unknowns - Into the Ditch
16. Mwarf - Brockbeat
17. Zodiac - 666
18. Nomex & Scud - Piling Machine
https://www.mixcloud.com/low_entropy/tr ... re-part-3/
---
Who is online
Users browsing this forum: No registered users and 3 guests